WHAT IS LINK JUICE? HOW DOES IT RELATE TO DIGITAL MARKETING & SEO?
8th of January 2021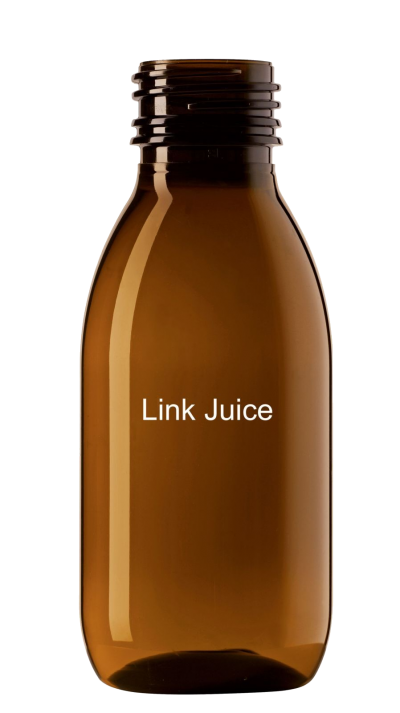 Ranking higher in Google, Bing, and other search engines is all about backlinks pointing at different pages on your website. While other factors do come increasingly into play to change how your website will rank for different search queries, there is no getting away from links as a key driver of ranking success.


Backlinks create what's referred to as "link juice". This is a curious term that people outside of the search engine optimisation (SEO) community are often confused about.

This article aims to completely demystify it for our readers.
What is link juice?

Backlinks – links pointing to your website from other sites – come with different amounts of sway or power. Whilst each search engine has its own way of determining how strong a site is that's linking to your website, there are also accessible SEO tools to provide some clues.

The Moz Domain Authority (DA) and Page Authority (PA) ratings are two of them. The DA indicates how strong the domain is and the PA denotes the strength of an individual page on the website.

When the site (or page of a site) linking to yours has a higher DA or PA (from 0 to 100 on a logarithmic scale from weakest to strongest), it's sharing some of that strength with your site. This backlink strength is referred to as link juice.


Link juice comes from many sources online including:

• Pages that have relevant content
• Content with a high PageRank
• Pages that have a few outbound links
• Pages that are well written and perceived by Google to have high quality content
• Top ranking pages in SERPS
• Pages that include User Generated Content (UGC)
• Pages that prove popular with social audiences


How to get link juice

Link juice isn't something that you purchase separately. It's also not a tradeable item.


Instead, because it's something that's derived from backlinks pointing at your site, getting more links creates more inbound link juice. Also, a handful of links from a DA 60 website is going to be more valuable than 20 links from a DA 5 website. Therefore, quality over quantity is relevant here.


Link building campaigns using outreach or niche edits (by adding a link to an existing article) are two proficient approaches to take. An SEO agency will have a wider network to secure high powered links. This is a valuable advantage over the competition.


The Skyscraper Technique

A popular and super powerful method of boosting both the quality and quantity of links to your content is to use The Skyscraper Technique. Created by Brian Dean, Founder of Backlinko, the idea behind this method is to take a piece of content that you already know is popular (a website such as BuzzSumo can help you find this out) and making it 10x better than anything else that has been published on the topic. There are lots of ways that you can improve on existing content and increase its value:

Making it longer – If you find a list based post that's performing really well and it covers 20 tips, make the article even longer by providing 30 or even 50 tips.


a). Update it

Not every niche has the luxury of evergreen content. There are certain industries where content goes out of date. That's where you come in. Simply update the content with the latest stats, news and industry information and then start sharing it. People are more likely to link to your up to date resource than the old one with outdated information.


b). Give it a Makeover

People are driven by visual content, more so now than ever before. Specifically, when it comes to stats and data, people don't want to digest lengthy reports, they want clear, concise information that's easy to understand. To do this, take a written piece of content and transform it into an infographic. This will make it much easier to share, understand and link to.


Link juice in digital marketing

Digital marketers aim to get powerful links that provide plenty of link juice to the pages that they wish to funnel it to. This helps to rank higher in Google and elsewhere.

These marketers know that for the more competitive search terms, they will never rank in one of the Top 10 positions unless there is enough link juice. Those pages will languish on the internet with few people ever finding them. It reduces the likelihood of getting a sale and a commission from that transaction.


What is link juice in SEO?

With SEO, the goal is not just to secure the link juice, but to direct the flow of it where it's most needed.

For instance, securing backlinks pointing to a product review page is often difficult to achieve - and costlier too. Instead, getting links to an information page answering a question about the product and then interlinking between the informational page and the product review page spreads the link juice where it needs to go.


By spreading link juice around using SEO, it's possible to better target which pages and search terms can be ranked for. Failing to do so makes it an uphill struggle.


Link Equity Checklist

Link Equity or link juice is built on the premise that authority and value can be cascaded through a website to many different pages. Value will depend on many factors such as page authority, relevance and the status of the page. You therefore can use each of these things to your advantage to boost your rankings.

Both internal and external pages have the power to pass on link juice but there are some best practices to be aware of to maximise your link equity. We have covered some of them in our handy, link juice checklist:


1. Link Relevancy

When linking to the different pages on your website, they must be relevant. If, for example, you are linking a fitness blog post to a page about home furnishings, this won't work. Google will recognise that it's not relevant and so you won't receive any link juice.


2. Authority

For external links, is the link from an authoritative and trusted source? As a general rule, established websites will have more value in terms of link equity than newer websites.


3. Follow Links

Links marked with 'no-follow' are an obstacle and will tell bots that they should be ignored. Even if the page is a great fit for the content you are linking to, it won't have any value from a link juice perspective.


4. Page Crawlability

Check whether the page is blocking the robots.txt file. If it does then the crawler will bypass it.


5. Link Location

Links should be prominently displayed in the main body content of a page rather than hidden in the sidebar or the footer text. The way that a site is structured will help Google make sense of the website and understand whether the content is relevant and valuable for visitors. Always consider user intent when writing content and creating links. Content that serves user intent will therefore receive more link juice.


6. Number of links

Pages filled with links will essentially dilute the link value. Visitors may become overwhelmed with all of the links on the page and 'bounce' from the page rather than clicking through to another piece of content, so be strategic in your use of links.

Link juice is vitally important to ensure websites receive the traffic they need to be profitable. Powerful backlinks provide link juice and subsequent "power-up" boost necessary to rank well.
---
---