WHY USE VIDEO AS PART OF AN SEO STRATEGY
30th of May 2017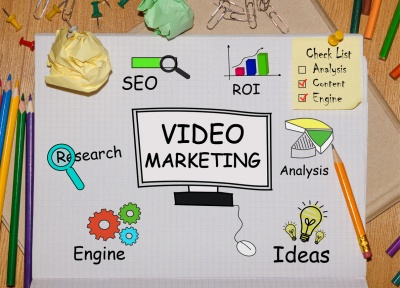 Search engine optimisation strategies have focused on content or search engine marketing. They say that a picture equals a thousand words, but recent studies show that one minute of video is equivalent to hundreds of thousands of words of text for your audience. Let's look at the reasons why you should use video as part of an SEO strategy.


1. Video Is Replacing TV

Video is replacing television and print for information and entertainment. This is why mobile video is expected to grow 11-fold from 2017 to 2020 as more people of all ages unplug from traditional TV. If you want to market to your potential customers, TV ads are out and online videos that consumers choose to watch are in. This is why two thirds of U.S. marketers planned to increase mobile video advertising videos in a 2016 survey. The most popular types of video online are comedy, music and news, which explains why the best viral marketing videos are funny. And the viral video that is seen by millions has been a hallmark of taking many now billion dollar brands, especially tech companies, up from zero with almost no marketing budget.


2. It Puts You Front and Centre in the Biggest Search Engines in the World

Your SEO strategy should seek to put you at the top of search results. Video marketing content posted on YouTube accomplishes this in two ways. YouTube is the second largest search engine in the world. Then there's the fact that Google owns YouTube and prioritises YouTube videos in searches over those on Instagram, Vimeo and other visual sites. This means that video on YouTube increases the odds it will rank well with Google compared to other sites.


Whether or not Google giving preference to content it owns in searches is a monopolistic practice is a whole other discussion, but the fact that it does should be reason enough to post how-to videos and video ads on YouTube. Remember to apply SEO to the video descriptions and put links to your company's home page and social media profiles in the video description; these count as social media backlinks that improve the SEO of your website and social media accounts indirectly, while traffic via these links is read as a reason why Google should rank your site even higher.


3. Video Is Ideal for Engaging and Converting an Audience

Video content by definition is engaging, assuming someone watches it the whole way through. Even if it is hard to measure the conversion rate of videos, the number of likes and shares are a direct measure of engagement with the video. And this tells you what content your audience likes. You can measure audience retention to directly track engagement. If someone watches a ten minute video, it is your fault if you haven't properly designed the video to promote brand awareness or convince a large portion to buy your product or sign up for your service.


4. Video Has a High ROI

Putting video on a landing page, assuming it doesn't make the page unwatchable to mobile users because you used Adobe Flash or slows the load time such that mobile users abandon it, increases conversions by 80%. If you track the conversion rate for pages with video against similar landing pages without video, you have a direct measure of the benefits of your own videos, since your ROI may differ. Email leads that receive video increase click through rates by two to three times. People who see videos of a home are four times more likely to make an inquiry about a property.


This Joseph Giles Casa Forma collaboration video is a perfect example of interior design and real estate videos for marketing and SEO purposes. Those who watch videos on an ecommerce page of the product in use are two thirds more likely to buy the product. For these reasons, the effort involved in creating video marketing pieces directly pays off in higher sales no matter what you're selling, as long as the video is engaging and designed to convert.


Conclusion

Video is becoming just as important as content, and you need to use video as part of your SEO strategy to engage these audiences on any and all platforms. The preference Google gives video on YouTube and the sheer volume of YouTube searches is reason enough to place videos on that site. Video marketing done right increases the conversion rate of even "traditional" email marketing and ecommerce listings. Video marketing has a high return on investment compared to other types of marketing, due to its relatively low cost and much better conversion rate.
---
---