10 TIPS FOR TURBOCHARGING YOUR SEARCH ENGINE MARKETING RETURNS
26th of May 2021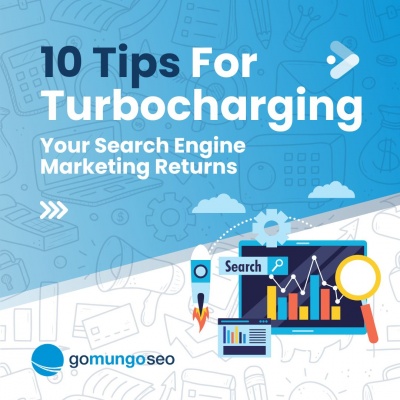 Getting noticed online is harder than ever. Not only are there more websites out there than ever before but the established players in most niches are firmly entrenched at the top of search engine results pages (SERPs). If you want your website to get anywhere near those coveted top three spots you need to look at ways to improve your online marketing.

Here are our top 10 tips at Go Mungo SEO to turbocharge your next search engine marketing (SEM) campaign.


1. Be Clear and Reasonable with Your Budget

Before you execute any marketing campaign, you should be clear about what your available budget is. The budget that you have available to you will determine what techniques you can realistically explore and which marketing channels you will be able to exploit most effectively. Money isn't everything, and money alone doesn't make a great marketing campaign. However, it is almost certainly going to be the most important limiting factor that restricts your available options.


Setting a realistic budget isn't difficult. However, it can be tempting to 'play it safe' and make more than enough money available. Adding some headroom to your budget isn't a bad idea, but a bottomless bank account creates problems of its own. It isn't just the financial expenditure. Putting clear budget parameters in place forces your marketing team to carefully think about how they are spending the money available to them.


2. Constantly Measure and Review

Before your campaign begins, identify your key performance indicators (KPIs) and the other metrics that you need to track in order to properly monitor your performance. Once your campaign begins, you must then watch these KPIs like a hawk.


One of the great things about digital marketing campaigns is that you don't need to wait for them to play out before you measure their success. With SEM, you always have the option of playing it cautiously and giving yourself the room, you need to change tack if your current approach isn't working.


If you have clear and measurable objectives and hard and fast deadlines to work with, you will find it much easier to work in regular reviews and revaluations of your approach. It is always better to change your approach than to continue throwing good money after bad.


3. Take A Data-Driven Approach

Data is a very powerful resource - if you use it correctly, of course. As we said above, you should be gathering and monitoring a range of data throughout your campaign in order to measure its current performance. However, with digital marketing, there is always more data that you can draw on if you wish.


For example, using SEM to improve your site's visibility can bring more traffic to your website. Every one of those new users is bringing with them a wealth of data that you can harness. This data will help you to assess your new audience and to detect any shifts in your demographics. If you are reaching out to new audiences, you should try to learn more about them once you have captured them.


4. Understand Your Customers

When you are deciding which keywords to target and which search terms are most important to you, you need to remember that you are not the customer. It can be difficult to be objective and dispassionate, but again, you should be guided by data and not by what you think the right course of action is.


Tools like SEMRush give you all the data that you need to decide which keywords you're going to target. Similarly, Google Keyword Planner, along with the suite of other analytical tools that Google provides, is another very useful ally.


5. Make Sure You Understand The Competition

Researching your audience is important when you are putting together a marketing strategy, but it is also important that you understand your competitors. Watching what your competitors are doing means that you can pre-empt them and learn from their mistakes.


Many of the analytics tools that are available to you can just as easily be used to recon your competition as they can to analyse your own website. If you use it right, this additional insight can give you a serious edge.


Not only can you check their performance, but you can find the gaps in their strategy and take advantage of them. You don't want to pump out a marketing campaign that is too similar to what your competitors are doing.


6. Make Sure Your Strategy Is Coherent

Having a clear and coherent strategy at the heart of your marketing campaign is essential if you want to achieve success. If you aren't clear with your team about what it is that you want, crossed wires and miscommunications are inevitable. If you and your time are not communicating effectively internally, it is unlikely that you are going to be communicating effectively with the audience that you are targeting.

Make sure that your strategy is concise and easy to understand. There's nothing wrong with having depth and layers to your campaign, but you should be able to summarize the thrust of it so it can be understood by a new team member.


7. Don't Neglect Your Keyword Research

If you want to maximize the effectiveness of your SEM, you need to be producing content for the right keywords. If you are striving to optimize for the wrong keywords, you are wasting your time. With all the keyword research tools available at your fingertips today, honing in on the right keywords shouldn't be too difficult. Google can help you out here.


8. Use Long-Tail Keywords

Using Google Keyword Planner, identify the top 100 keywords for your niche. Make sure that you target long-tail variants on these keywords as well as the keywords themselves. If you hit on the right long-tail, it can make a big difference to your visibility in searches similar to your long-tail.


9. Cut Anything That Slows Your Website Down

Remember, SEO is a vital part of SEM. Through paid marketing, you can certainly improve your visibility in search engines. But if you want your website to maintain its visibility after the campaign is over, you need to get your SEO in order.


Google's SEO algorithms have grown increasingly sophisticated over the years. There was once a time when all Google really cared about was how many other websites were linking back to a webpage when deciding how popular and relevant it was. Back when there was a reasonable skill barrier between most people and their own website, this system worked well enough. But it soon became laughably easy for someone with a little knowledge to subvert Google's algorithms and send any webpage they chose soaring through the rankings.


As a result, Google's SEO algorithms now take a wide range of factors into consideration when assigning your page an SEO score. Some of these are well-known, but there are others that often get forgotten about. The speed with which your page loads is one of the most important but most often-neglected variables in the equation.


10. Pay Attention to Your Outbound Links

When it comes to linking to other websites from yours, some people are far too concerned with potentially losing traffic to the websites they link to. According to this line of thinking, linking to other high-quality and authoritative sources that cover the same subjects as you will only take the spotlight off your website and onto your bigger competitors.


However, if you want to get the most out of your SEO and maximize your returns, you are going to have to get used to working with other people. No website is going to be able to hit the top of Google's SERPs without working with other websites to some degree. If no one is linking back to your website and you aren't linking out to high-quality sources, you aren't going to get very high on the results page.


Building link equity is an essential component of any SEO strategy. But linking out to other high-quality websites isn't just about increasing your own SEO score. Linking to other websites makes it more likely that they will become aware of your website. They might even link back to you in the future and send some traffic your way.


Don't Forget Your Internal Links Either

Internal links are just as important as outbound links. Linking to old content keeps it fresh in Google's eyes and prevents it from decaying. The SEO score for web pages that are no longer accessed or are receiving little traffic will gradually decrease, reducing the page's visibility at the same time.


Of course, internal links aren't just useful for SEO purposes. Inbound links keep people on your site for longer and give you more opportunities for conversions. They also make it easier for users to navigate your site and follow a chain of content that they like. SEO and SEM can bring people to a particular page on your website. From there, your inbound links can take new audience members on a tour of your best content.

If you want your next SEM campaign to bring you the maximum possible ROI, you will need a well-rounded but focussed campaign. Remember, there are two main strands to SEM. First, you bring people to your website, then you hook them in and convert them. Following the advice above will enable you to accomplish both of these goals.


If you need help with turbo charging your SEM returns, contact us at Go Mungo SEO.
---
---