EXAMINING THE IMPACT OF SOCIAL MEDIA ON SEO
22nd of May 2018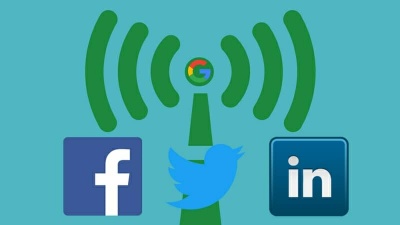 Over the last few years, social media has started having an increasing influence on search engine rankings and how marketers are approaching SEO. Most of these changes have to do with a shift in Google's philosophy towards a better user experience and a more democratised search engine.

Not only can social media activity have an impact on your search engine rankings, but it can also provide more avenues for your content to be showcased on search engines as well. In this article, we're going to discuss exactly how social media impacts SEO and how to use social media to boost your SEO efforts.


The Effect of Social Media on Link Building and Sharing

While link building isn't as central as it once was, it is still one of the most important rankings factors. While it's important to note that social media shares in and of themselves are not a direct ranking factor, they surely influence inbound links. The more shares a post gets, the more chances people will see your content and link to it.

In a recent study, one particular company was able to get 130,000 shares on Facebook to their website. They were able to get on top of Google's first page results thanks to this post alone. And this was for very competitive keyword phrases.

This is a prime example of how powerful social media can be for search engine results. If you manage to create high-quality content people will love and share, you are bound to get more incoming links from other sites.


The Effect of Social Media on Search Engine Visibility

If you type any business's name in any search engine, chances are you'll see a few social media results in addition to their actual site. And it's not unusual to see social media pages rank better than some official websites as well.

If a certain business is able to dominate search engines both with their social media profiles and their official links, they will be able to get a lot of visual real estate on front page search results. This factor alone could give you a significant edge over your competition.

This is why it's essential to keep social media pages active with fresh content. And it's also essential that you establish an active relationship with your followers. Make sure that you also make your presence felt on the social media platforms that mean the most to your audience.


The Effect of Social Media on Promotion

When people think of social media, they usually think of Instagram, Facebook or Twitter. But they often overlook perhaps the most powerful of them all in terms of promotion: YouTube.

Millions and millions of people search through YouTube's search engine every day. As a matter of fact, YouTube's search engine is actually the second in terms of searches in the entire world. However, while the consumer intent is slightly lower than Google, it's still a very effective promotional tool.

YouTube also increases the chances of your content showing up on top of search engine results, therefore, gaining more traction for your brand and more potential links to your website.


Conclusion

Social Media and SEO are perhaps the two most powerful tools you can use in digital marketing today. Understanding how to use both in conjunction with each other is essential if you want to get significant results with your marketing effort.
---
---